75th Birthday Invitations
Carefully chosen 75th birthday invitations are the ideal way to set the tone of your party.
Your guests should know from the invitation what sort of party it is – a surprise party, a formal celebration, or a casual get-together.
Most of the invitations shown below come in a variety of styles and color options
Just click on any picture for more details or ordering information.
This post may contain affiliate links. For more information, visit my disclosure page.
Photo 75th Birthday Invitations
A milestone celebration like this calls out for memorable invitations!
Photo invitations serve two purposes – they act as invitations, but are also a special keepsake for guests to cherish.
I particularly like invitations that allow you to add 2 or 3 pictures of the guest of honor (like the adorable invitations pictured above). You can choose current pictures, but I think using pictures of the guest of honor as a child adds extra charm.
Photo invites are actually very easy to order online. Just upload your favorite picture or pictures, add your party details, and you're ready to go.
It takes just a few minutes longer than ordering regular invitations. The hardest part is choosing your favorite invite!
Two Photo 75th Birthday Party Invitation – Choice of Colors
Elegant 2 Picture Then and Now Invitation
Bold 75th Birthday Personalized Invites – Choice of 6 Colors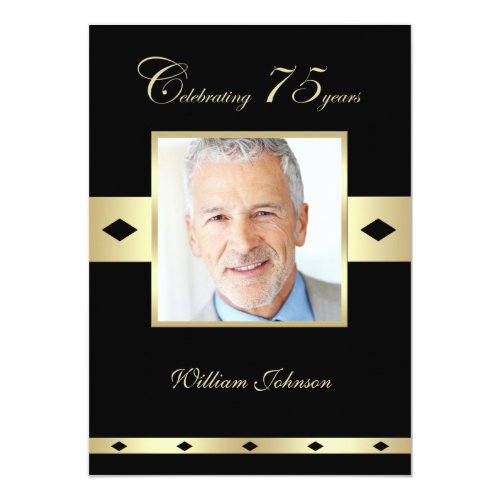 75th Birthday Party Photo Invitation – Choice of Colors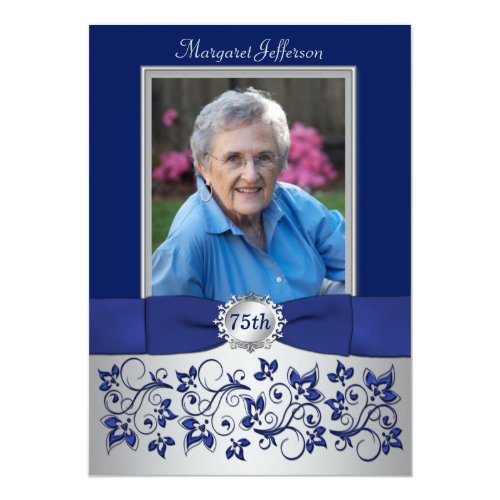 Damask 75th Photo Birthday InvitationOne Photo "Let's Celebrate" Sparkle Invitation
Personalized 75th Birthday Invitations
For a 75th birthday, I like to look for invitations that emphasize the number "75".
After all, this is a milestone birthday – you'll want to make sure that all your guests know!
The invitation pictured here is a perfect example…you can't miss the number "75".
Look for invitations that match your color scheme or party theme – and be sure that there's plenty of room for all the important party details!
Many personalized invites will allow you to add a picture or a map to the back of the card – which is sure to save your guests stress (and driving time) on the night of the big event!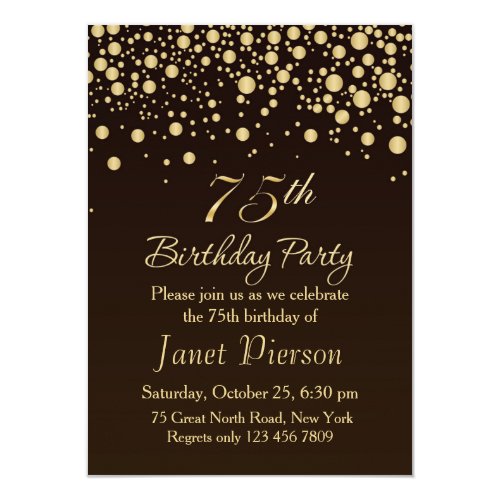 Golden Confetti 75th Birthday Party Invitation
Personalized 75th Birthday Party Invite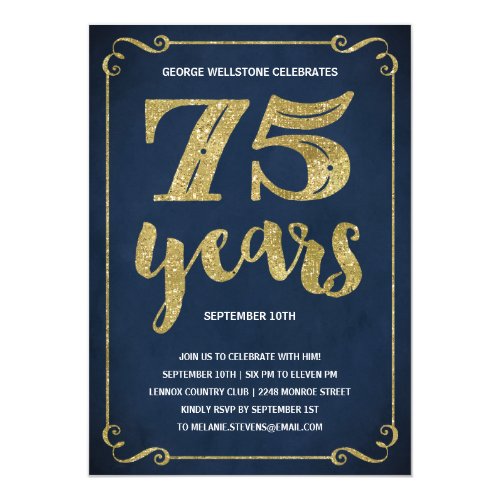 Gold Typography with Faux Foil 75th Birthday Party Card
Celebrate 75 Years Personalized Birthday Invitation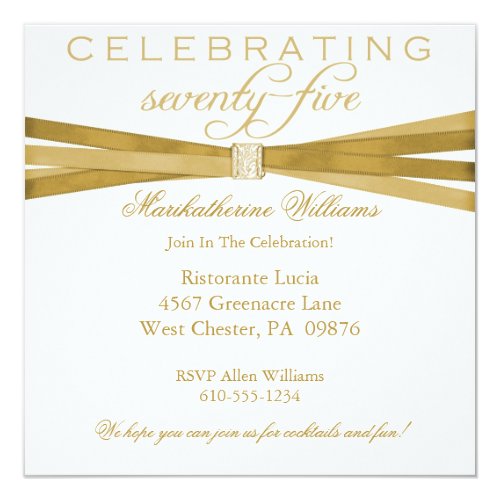 Elegant 75th Birthday Party Invitations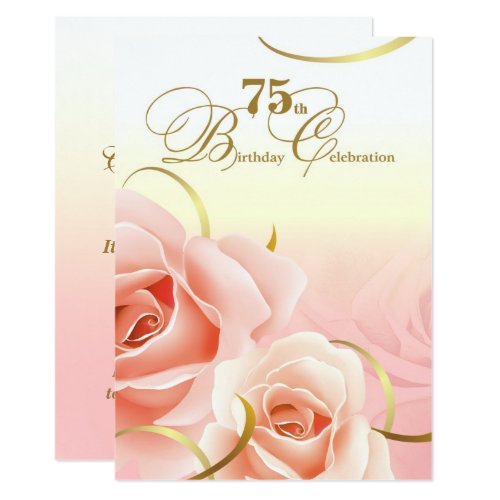 75th Birthday Celebration Custom Invitations
Surprise 75th Birthday Party Invitations
If you are planning a surprise birthday party, be sure to highlight that information at least once -and preferable twice – on the information.
Choose your words carefully so that everyone knows that the utmost discretion is required. You don't want the guest of honor to have any hint about what's in store for the big occasion!
For RSVP information, be sure to leave a phone number or email address that the guest of honor doesn't usually have access to. You don't want someone to leave a voice mail about that party that can be overheard by the guest of honor!
75th Birthday Surprise Invites
Chalkboard Surprise Party Invitation Man or Woman
Colorful 75th Birthday Surprise Party Invites
Surprise Party Personalized Invitations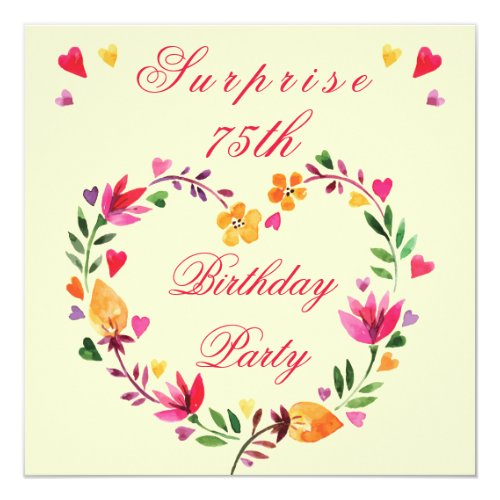 Surprise 75th Birthday Watercolor Floral Heart Card
Surprise Party Invitation Black Gold Elegant Adult
75th Birthday Invitations for Women
There are plenty of delightful options available when selecting invites for women.
Try to incorporate some of the guest of honor's favorite colors into the design. Feel free to add glitter or sparkles if she's a glamorous kind of woman!
Some of the popular patterns for women include damask (very elegant), floral (either casual or formal), and monogrammed.
If she's sensitive about her age (you know how some women can be), you might not want to send cards that have "75" as a primary feature. Go for a more understated look so you don't hurt anyone's feelings.
75th Birthday Invitations for Men
When choosing party invitations for men, look for more masculine colors and themes.
Be sure to choose a more masculine font – I like the bold simple font of this invite on the left. Avoid swirly, curly fonts.
Dark colors, stripes, and plaids are always good choices. If he's got a favorite sports team, consider using their colors.
You can also choose to incorporate some of his favorite activities into the invitation. Sports themes are always popular for men – does he enjoy golfing or fishing, for example?
If he has a good sense of humor about turning older, perhaps add a funny quote or saying to the card. Or you could choose a funny theme such as "Old Geezer" or "Vintage Dude".
Elegant 75th Birthday Party Invitations for Men
If you're planning a formal, sophisticated party, then these well-dressed invitations for guys are an excellent choice!
Funny 75th Birthday Party Invitations for Men
It's not the age, it's the mileage that counts! These funny invitations are perfect for the guy who loves cars…or has a sense of humor about turning older.
Young Chap Invitations
Showcase a favorite photo with these striking invitations.
Available in 3 different color schemes.
Wood-Grained Photo Invitations
Handsome wood-grain background showcases 2 pictures of the birthday man.
Vintage Birthday Party Invitation for Men
Handsome vintage-style party invitation is the perfect choice for the manly man.
Fill in the Blank 75th Birthday Invitations
If you're having a smaller party (or lots of help to write the invitations) fill-in-the-blank invites are a great way to save money!
There aren't any fill in the blank invites that are specifically designed for a 75th birthday, but you can choose any style invitation you would like, and then just mention "75th birthday" when you're writing the invitation.
The invitations I'm highlighting here would work particularly well for a 75th celebration, but I've chosen these particular ones because these featured invitations all have matching party supplies! So it's easy for you to get ready for your party without having to search high and low for matching decorations.
Inexpensive 75th Birthday Invitations
You don't have to pay a fortune for personalized invitations! Shindigz has an amazing selection of birthday invitations that include pictures with prices starting at under $1 per card, which includes envelopes.
The price per card goes down as you order additional cards.
The difference between these cards and more expensive is generally the quality of the paper and the design options. (You can only print on the front side of these cards, for example.)
Shindigz also offers a complete line of party goods, so you can take advantage of on-site coupons and reduced shipping costs to save even more.
Affordable 75th Birthday Photo Invitations
Great quality at a reasonable price! These personalized invites are a delightful way to showcase a favorite picture of the birthday celebrant.
Inexpensive Chevron Pattern Invitations
Stylish chevron pattern invitations feature 3 pictures. The background and font colors can be customized to any color you choose, so these could be used for either a man or a woman's party.
Birthday Party Photo Invitations
Quickly create a classic affordable photo invite…just upload a favorite pic and fill in the party details!
Themed Party Invitations
Who doesn't love a themed party? Themed parties give people an excuse to dress up and join in the fun!
If you're throwing a themed event, start the celebration on the right foot by choosing invitations that match your theme. This will let the guests know what to expect at the party.
Be sure that your invite includes all the normal information, such as date, time, and place.
However, your invitation should also indicate what type of event you're hosting – formal, casual, whether certain attire is required.
75th Birthday BBQ Party Invitations
Who doesn't love a BBQ? If you're planning a cookout for the 75th birthday, check out these fun invitations!
Whiskey & Cigars Party Invitations

Celebrate in a manly, old-school style with a whiskey and cigars party!
Cheers & Beers Party Invitations

Celebrate your favorite beer-lover's birthday with a festive Cheers & Beers party! Personalized invites are available in cream, black or navy.
Tea Birthday Party Invitations
Planning on an elegant tea to celebrate this milestone occasion? These delightful tea party invites are available in 4 cheerful colors.
Margarita Birthday Party Invitations
It's not just a party…it's a fiesta! Cute margarita-themed invitations are the ideal choice for a south-of-the-border themed bash.
Golf Themed Birthday Party Invitations
Hit a hole in one with unique golf themed invitations!
How to Choose the Right Invitations
Invitations are the first impression your guests will have of the party. If you're using certain colors for the party, try to find invites that incorporate those colors.
If you're having a themed celebration (such as a BBQ, fiesta, or luau), invites that reflect that theme are a great way to set the tone ahead of time.
You should plan on ordering your invitations as soon as you've set the date and place of the celebration. This will give you time to choose the invites, order them, and then address and mail them to the guests.
Generally, party invitations should be mailed four to eight weeks before the event. If you're inviting out-of-town guests, you should send invitations eight to twelve weeks ahead of time so that they can make travel arrangements.
75th Birthday Invitation Wording Examples
The wording you use on the card depends upon the type of event. For all events, however, be sure to include the reason for the celebration, the date and time, and address of the party.
Be sure to include RSVP information and a respond-by date if needed. You may wish to specify "Regrets Only", which means that the invitee only needs to contact you if he or she is unable to attend.
75th Birthday Invitation Sample Wording
Friendships are one of the few things that improve with age.
The family of Nate Coffee invites you to celebrate his 75th birthday and a lifetime of good friendship at a (type of party – cocktail, dinner, etc) party.
Saturday, May 15 6:30 pm
The Bright Lounge
St. Louis, Missouri
Regrets only to Susan 303 660 9199
75th Birthday Surprise Party Invitation Wording
Shhh….it's a Surprise!
Kris is turning 75! Join us as we celebrate the big day
Saturday, April 10 from 7:00 pm to 10:00 pm
Aquarius Bar & Grill
28 Highlands Rd
Birmingham
RSVP by April 5 to Susie at 555.221.1111
Sample Invitation Wording – Celebrate with Us
Celebrate with us!
​Join us for a birthday dinner in honor of
Kathleen Johnson's 75th Birthday
Saturday, January 196:00 – 10:30 pmTarrytown House, 49 East Summerset Lane
RSVP to Linda by January 12883.714.2212
​
Sample Wording – Time to Party
It's time to party!
Come celebrate a night of fun and excitement as Karen turns75!
The fun beginsSaturday, November 15 at 9 o'clock
Kyles Taproom 1234 West Street
Regrets only to Margaret & Tom 555.823.4140
​
Sample Wording – 75 and Fabulous
​
Please join us in celebrating
Mildred Johnson
on her seventy-fifth birthday
Saturday, November 19th at six in the evening
Camden Cottage Inn
256 River Parkways in Redmond Falls
Your presence is gift enough
Formal Dinner and Dancing Sample Invitation Wording
Please join us for a 75th birthday celebration
for Erica Stonehart
Saturday, June 19th at seven o'clock in the evening
Enjoy dinner and the music of The Summertime String Quartet
Westside Country Club
1515 Kent Lane
Cherry Hills, California
RSVP to Lucille McLoud 555.111.2312