75th Birthday Gift Ideas for Mom
Are you looking for thoughtful 75th birthday gift ideas for your Mom? You'll want to find a present that lets your mother know exactly how special and amazing she is.
You'll find 25 of our best 75th birthday gifts for mom here. Prices start at under $25, so there's something to fit every budget.
This post may contain affiliate links. For more information, visit my disclosure page.
NY Times Birthday Front Page Jigsaw Puzzle
Looking for a fun and unique gift for your Mom?
This historical jigsaw puzzle (available in 3 sizes) features the New York Times front page from the day she was born!
An original and thoughtful gift that Mom – and other family members – will enjoy assembling!
Close to Her Heart Personalized Blanket
Super-soft and cuddly fleece blanket is bound to become Mom's favorite.
Add up to 21 loved one's names which will be repeated throughout the heart shape.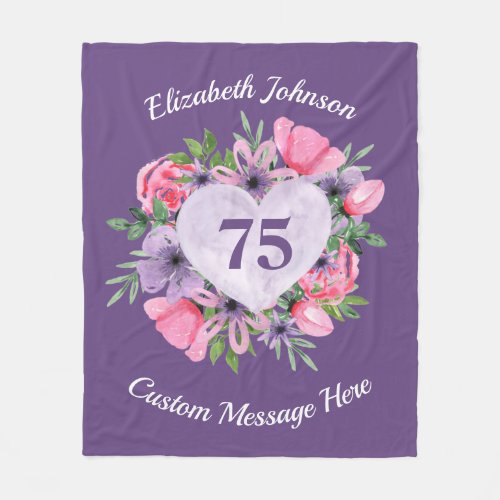 Floral Purple 75th Birthday Blanket for WomenCHECK PRICE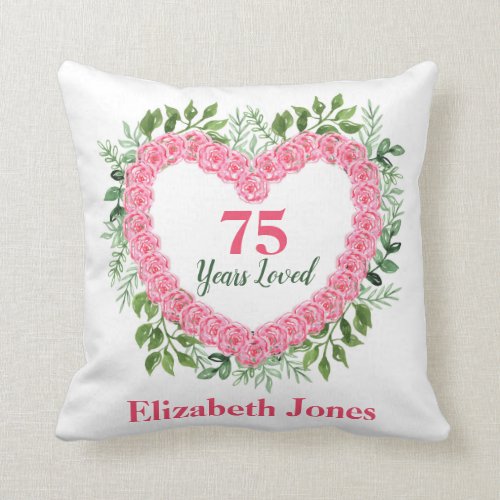 Personalized 75 Years Loved PillowCHECK PRICE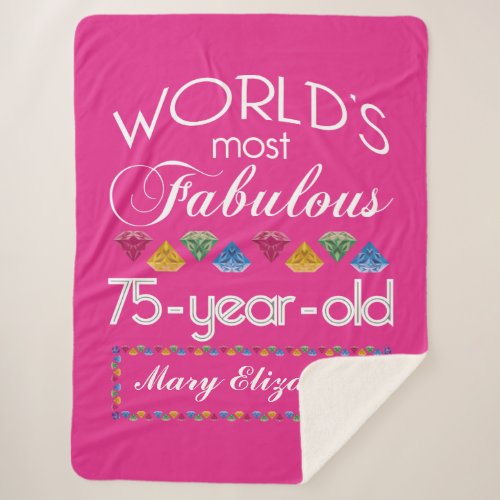 Personalized World's Most Fabulous 75 Year Old BlanketCHECK PRICE
Personalized The Day You Were Born Canvas Print
This charming print is a wonderful way to look back and see how much life has changed since Mom was born!
Custom-made sign is personalized with Mom's name and birthdate at the top. It highlights the top news, entertainment, and sports stories from the day she was born.
It also features a fascinating cost of living comparison for common household items between now and then.
Family Tree Birthstone Necklace
Unique family tree necklace features up to 7 family member's names engraved in an elegant script on individual leaves.
The corresponding crystal birthstone dangles gracefully from each leaf.
A sentimental necklace that Mom will love wearing for years to come!
Funny 75th Birthday Gift Ideas
If your mother has a sense of humor about aging, then she'll appreciate one of these funny gag gifts.
Funny "How Not to Become a Little Old Lady" pictured above offers clever tips on things NOT to do to stave off little old ladyhood. Perfect for making her laugh out loud when she opens it!
Story of a Lifetime Memory Book
Mom surely has plenty of stories to share, and she'll love preserving them forever in this striking keepsake memoir journal.
Elegant gold-edged book contains over 380 pages that are filled with thought-provoking questions that are sure to spark memories and conversations.
A fun project for Mom that will become a treasured family keepsake.
Easy to Use Digital Photo Frame
Share Pictures Through Email or Social Media Apps
Mom will love staying in touch with family and friends with this best-selling digital picture frame.
It takes just moments to set up (you can even set it up and monitor it remotely if you prefer.)
You can share photos and short videos privately and securely. Use Alexa to create photo playlists.
A gift that Mom will enjoy for years to come!
Wine Gift Ideas
An important event like this certainly calls for a toast! Help her celebrate in style with a fun wine glass like the one pictured above.
Aged to Perfection wine glass is a fun gift on its own, or you can pair it with one of her favorite bottles of wine if you'd like to splurge a bit.
Personalized Glass Picture Frame with Poem
This personalized frame with poem combines two gifts into one – a poem that describes what Mom means to you and a favorite photo.
Choose from 6 pre-written poems (or write your own to create a sentimental keepsake that any mother would treasure.
Add your own greeting or title to the top, and end with your own loving sentiment – the perfect place to add "Happy 75th Birthday"!
Diamond Mother's Bracelet with Names
A milestone event like this calls for a memorable gift that Mom will treasure for years to come. A bracelet with family member's names fits the bill perfectly
The stylish bracelet features sterling silver and 24k gold plated accents. Up to 10 family member's names are engraved on bracelet.
Each "wave" of the bracelet is further accented with genuine diamonds.
The adjustable bracelet features a 24k gold and silver-plated heart shaped charm at the clasp.
This special keepsake is sure to become your mom's favorite piece of jewelry!
75th Birthday Flowers for Mom
A 75th celebration calls for more than just your run-of-the-mill bouquet.
Why not give Mom a floral gift that lasts more than just a few days? She'll be able to enjoy this gold-tipped rose for years to come!
This unique gift consists of a real rose in your choice of 13 colors that is preserved in acrylic.
The rose is then edged in either 24k gold, platinum or sterling silver.
You can also choose to add optional birthstones to the petals.
One of the petals is imprinted with the message Love You Mom (other messages are also available).
You can also add an optional heart tag imprinted with your own message.
Personalized Heart Shaped Clock
Mom has spent literally hours and years of her life loving you, taking care of you, and worrying about you.
Let her know how much you appreciate all that time with this unique heart-shaped clock.
Choose from 7 pre-written verses or write your own sentiment to create a one-of-a-kind present that will be treasured for a lifetime.
Add a personalized sentiment of love at the bottom.
Personalized Ultimate Birthday Book from The New York Times
Every Birthday Front Page from All 75 Years!
A 75th birthday is a time for reminiscing and looking back at how things have changed during your lifetime. This unique personalized book is the perfect memory-jogger and conversation-starter!
Striking book features every New York Times front page on Mom's birthday for her entire life – 75 years of front page news!
It also includes 10 blank pages for her to add personal recollections and mementos, as well as an exclusive photo-packed timeline.
Mom will enjoy browsing through this unique book long after her celebration has come and gone!
Personalized Vintage Jewelry Box
Mom will always know how much you treasure her with this delightful personalized jewelry box.
Add your own loving message (up to 3 lines) and closing sentiment.
New York Times Special Day Book – Choice of Covers
Celebrate Mom's special day with this popular Special Day keepsake book!
Keepsake book features up to 80 pages of The New York Times from the day Mom was born printed on archival matte paper.
The cover is personalized with her name and birthdate.
A unique gift that's sure to be a hit!
Sentimental 75th Birthday Gift for Mom
A milestone celebration is always a good time to let your Mom know exactly how much you treasure her.
This gorgeous personalized "Because of You" keepsake is the perfect way for you to share your feelings with your Mom.
The phrase, "Because of You" will always appear on the side. The center of the elegant Lucite block features your own poem or message (or you can choose from 2 pre-written poems).
Add Mom's name to the top, and end with your own 2 line sentiment and date at the bottom.
Personalized Picture Frame – Choice of Colors
I'm sure you'll take loads of pictures on Mom's big day – and this personalized frame is the perfect way to showcase a treasured memory!
Choose from 6 color schemes, and then add 3 lines of personalization, as well as her birth year.
Our Family is United by Love Diamond Ring
Diamonds, her loved one's names, and a sentimental inscription make this a meaningful present that your Mother will treasure!
Add up to 6 family member's names to be inscribed on the 18k gold-plated ring.
Genuine diamonds add sparkle and shine.
Heart Music Box for Mom with Kid's Birthstones
Your Mom has always loved you; always been your strongest supporter. This sentimental music box is the perfect way to let her know you appreciate her love and support.
Heart-shaped music box plays, "Always in My Heart" and features up to 6 children's birthstones that dangle delicately from the word "Mother".
The base is inscribed in 22k gold script with the moving sentiment,
"A Mother Holds Her Children's Hands for Just a Little While, but Holds Their Hearts Forever".
Our Family is a Circle of Love Personalized Ring
A family ring is a beautiful gift for any woman who takes deep pride and enjoyment in the love of her family.
One of my top picks is this lovely mother's ring featuring this hidden message engraved on the inside of the band:
Our Family is a Circle of Love
The solid sterling silver band features 24k gold plating and showcases the names and birthstones of up to 6 family members.
This ring is sure to become a treasured keepsake!
Engraved Charm Bracelet for Mom
Stylish bracelet features 24k-gold plating and heart-shaped charms with her children's names and birthstones.
An elegant gift that she will enjoy wearing for years to come!
You Might Also Like: