75th Birthday Gift Ideas for Grandma
What should you get Grandma to celebrate her 75th birthday? You want to find a present that helps her remember this special day and all the people who have helped her celebrate it.
You want a gift that lets your grandmother know how much you love her, and that you treasure the time you spend together. That's a lot to ask from one present – but here are several unique 75th birthday gift ideas for Grandma that will fit all your requirement.
This post may contain affiliate links. For more information, visit my disclosure page.
New York Times Front Page Jigsaw Puzzle
Grandma probably did jigsaw puzzles with you when you were a kid – bring back those memories with this unique 75th birthday jigsaw puzzle!
Order her a puzzle that is a perfect replica of the New York Times front page from the day she was born.
The whole family will have a ball putting together the puzzle!
Last updated on September 22, 2023 5:12 am
Close to Her Heart Personalized Blanket
Wrap Grandma in the warmth of those that she loves most with this cozy blanket.
Super-soft blanket is made of cuddly jersey fleece, and features the names of up to 21 loved ones repeated throughout the heart shape.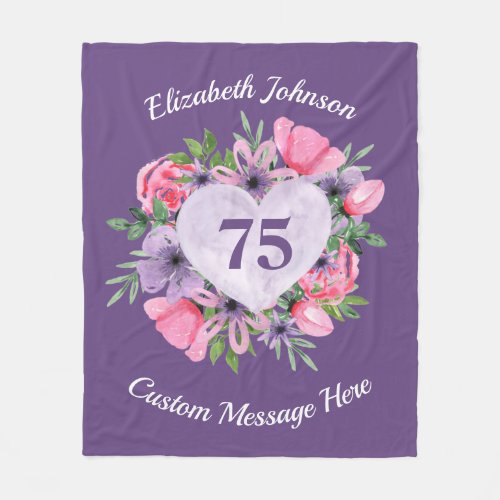 Personalized 75th Birthday Blanket for WomenCHECK PRICE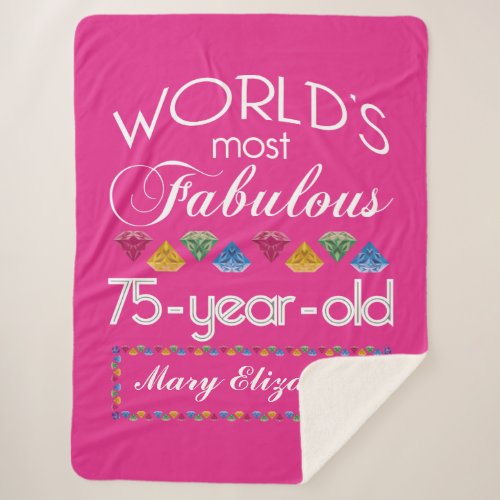 World's Most Fabulous 75 Year Old BlanketCHECK PRICE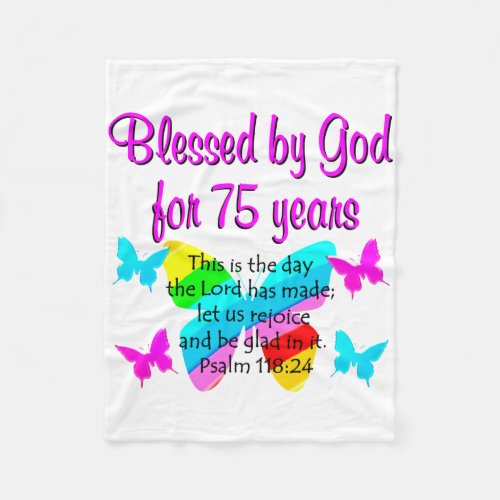 Blessed by God for 75 Years BlanketCHECK PRICE
Story of a Lifetime Memoir Book
At 75 years old, Grandma has a lot of wonderful memories to share! This gorgeous "Story of a Lifetime" book is a lovely way for her to preserve her past.
Elegant book features almost 500 questions about her life that range from simple to thought-provoking. She'll have plenty of room to write her answers on the gold-tipped pages.
A fabulous way to her to pass along her legacy of wisdom and knowledge!
Personalized 75th Birthday Pillow
Celebrate Grandma's big day with a comfortable 75th birthday pillow! She'll love this sweet 75 years loved pillow.
Personalize it with her name or another message underneath the rose heart. A fun (and comfy way) to accent Grandma's home.
Funny Gift Ideas
Does your granny have a good sense of humor about growing older? Then she'll appreciate one of these 75th birthday gift gifts!
Every woman should feel like a queen on her birthday! Fun 75 crown and "75 and Fabulous" sash is just what she needs to complete her day.
Think of all the instagram-worthy pictures you'll be able to post!
Last updated on September 22, 2023 5:12 am
Smart Digital Photo Frame
Share Pictures Through Social Media Apps or Email
She'll love keeping up with all her family and friends with this best-selling digital photo frame!
Simple-to-use frame can be set up and monitored remotely if she doesn't like getting involved with gadgets herself.
Family and friends can then send photos and short videos privately and securely via email, Facebook, Instagram and other social media apps.
She can also create photo playlists and control them via Alexa. She'll love being surrounded by her favorite memories – and people – every day.
Tip: Add photos to the frame before you give it to her so that she can enjoy using it as soon as she opens it!
The New York Times Ultimate Birthday Book
Every Birthday Front Page for All 75 Years!
Amazing book features every New York Times front page from Grandma's birthday for all 75 years of her life!
It's a sure-to-please present that will spark conversations and memories – and will be enjoyed long after her birthday has come and gone.
The book features full-color pages after 1998, and is personalized with her name and birthdate on the front in gold letters.
The hardbound book is available in several colors and styles.
It contains approximately 140 pages, including an exclusive 20-page photo-filled timeline.
FREE SHIPPING!
Enjoy Free Shipping on up to two Custom Birthday Books or Ultimate Birthday Books at The New York Times Store! Expires 12/31/23.
Use CODE: BDAYBOOKSHIP
75 & Fabulous Bracelet
Brighten her birthday with this cute – and affordable (under $15) – bangle bracelet!
Adjustable bracelet features 4 birthday-themed charms, and is accented with a freshwater pearl for a touch of glamor.
Be sure to take advantage of free shipping if you're an Amazon Prime member!
24k Gold Dipped Real Rose
Choice of Colors
What woman doesn't like flowers for her birthday? For a milestone birthday like this, impress your grandmother with a rose that will last forever!
Real rose is preserved and dipped in 24k gold. It comes complete with a stand and is packaged in a gorgeous gift box.
Personalized 75th Birthday Mug
Pink or Purple
What could be better for Grandma than to sit and drink her morning tea/coffee from a mug especially designed to celebrate her seventy-fifth birthday?
Colorful mug features the number 75 in the middle of a floral heart. Personalize the mug with 2 lines to create a unique gift she'll love!
Available in two sizes, 11 oz. or 15 oz. Makes a wonderful stand-alone gift, or pair with home-baked goodies or a bag of gourmet coffee for a special treat.
A Month of Inspirational Messages
Grandmas are kind, so what could be more appropriate that these Kind Notes to create the perfect unique 75th birthday gift for Grandma?
Choose from several styles of decorative jars that can either include pre printed messages from our vast selection or you can opt for blank messages to create your own.
The messages each come sealed in decorated envelopes – you can choose from over 15 different styles of envelopes.
You can also choose which color festive filler ribbon you'd like to add to the jar.
Personalized Family Tree Necklace
Unique necklace is sure to become Grandma's favorite piece of jewelry!
Up to 7 family member's names are engraved on individual leaves, and then accented with the corresponding birthstone.
Personalized Grandma's Seeds of Love Flower Pot
Purple or Red
Grandma's love is forever blooming, so what better present than to give her a personalizedSeeds Of Love Flower Pot?
The flower pot is personalized at the top with her grandkids' names or another short message.
She'll love the sweet inscription, "Grandmothers plant seeds of love that grow forever".
75th Birthday Wine Gifts
After all these years, Grandmother deserves to sit back and relax with her favorite glass of wine! Pamper her with this adorable "75 & Fabulous" wine gift set.
Fun wine gift set includes a wine tumbler with lid, "Bring Me Some Wine" socks, a candle, a keychain, a compact mirror, and a gift card.
Great gift for the woman who enjoys wine!
Last updated on September 22, 2023 5:12 am
"My Heart Belongs to My Grandkids" Necklace
Thrill Grandma on her special day with this lovely necklace that's custom-made just for her!
The sterling silver heart-shaped charm features up to 15 grandchildren's birthstones on the front, with each of their names engraved on the back.
Grandma will be so proud to wear this heirloom-quality necklace that shows off her love and pride in her family!
Personalized Vintage Jewelry Box
There is no one quite like Grandma, so show her how much she means to you with this unique personalized vintage jewelry box.
Imagine the joy this beautiful keepsake will bring every time she uses it.
Write your own 3-line message plus any 2-line closing sentiment and this will be engraved onto the glass lid in a classic script letter style.
Personalized Hugs and Kisses Jar
Treat Grandma to a sweet gift that's especially designed for her 75th birthday!
Personalized the candy jar with her name and any 2 line message.
Add small candies such as Hershey's kisses to complete the gift. You can add colorful 75th birthday stickers to the candies for a special touch!
Personalized Birthstone Charm Bracelet with Names
What better gift for a truly special lady on her special birthday than this ready to wear, hand-crafted bracelet?
Better still you can customize this stunning gift to make it really unique with up to six names paired with their Swarovski crystal birthstone.
Further beads coupled with 18K gold-plated love hearts and a heart charm inscribed with, "My Family, My Joy" provide the overall perfect finishing touch.
You Might Also Like: